Reliving 9/11: Too Much? Too Soon?
By JULIE SALAMON

One week after they've each lost a parent in the World Trade Center attack, two boys, ages 7 and 16, conduct an experiment. They take a map of the world into a local store in Tottenville, at the southern tip of Staten Island. As customers come in, the older boy hands them a marker and asks them to circle Afghanistan.

A college student marks France, a high school teacher Israel, a third customer Poland.

The boy asks them to name the leader of the terrorist organization that attacked America. The name Bin Laden draws blanks.


This scene comes from "Telling Nicholas," an HBO documentary, showing tonight, that follows the family of Michele Lanza, one of the victims, in the days after the attack. Her 7-year-old son, Nicholas, is one of the boys in the store; he still believes his mother is missing, not dead.

While the documentary focuses on a family's loss, the boys' experiment is a reminder of how dramatically our view of the world has changed since that day. Not nearly as many people in this country would mistake Poland for Afghanistan now, nor would they be at a loss to name Osama bin Laden as the terrorist leader. Much of that instant education came from television, which in the early days provided both news and comfort. Then followed explication, in an onslaught of documentaries. The broadcast networks and cable channels have covered the rise of terrorism, the roots of Islam, the sociology of Afghanistan, the structural history of the World Trade Center and even the fate of pets living at ground zero (an Animal Planet production). Six months after the attack, the commemoration began with those unnerving beams of light sprouting from the World Trade Center site. On television, CBS presented "9/11," its horrifying vision of the chaos inside the towers that day. HBO is weighing in tonight with "Telling Nicholas"... It all seems very fast... In our speeded-up culture, we want instant catharsis. The phenomenon is most pronounced in television, in part because the World Trade Center was situated in the country's media epicenter. Even if it hadn't been, cameras are everywhere. In many documentaries, including "Telling Nicholas," the cameras record other people recording the event. We may want to look away, but a great many people feel compelled to watch. CBS's "9/11" drew a huge audience, some 52.4 million people... Before Sept. 11, HBO's America Undercover series was planning to show a documentary called "Animal Passions," about sexual relations between animals and humans. "Telling Nicholas" took that slot. Many more documentaries on the attack and related subjects are in production, most for the one-year anniversary. The major networks are planning marathon events. Together with the cable news channel coverage, the intensity will probably be unprecedented in the medium - bigger than the Super Bowl, Olympics, J.F.K.'s assassination, Princess Diana's death.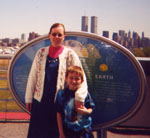 Others are rolling out earlier. Some, like "Telling Nicholas," were begun as soon as the planes hit the World Trade Center. James Ronald Whitney, a filmmaker and stockbroker who lived just a few blocks away, went to the roof of his building and kept a steady camera on the horror as it happened.
The next day he saw Michele Lanza's face on a poster, one of the thousands placed by desperate families. He called her family to offer help, and ended up recording the most intimate aspects of their shock and grief, including some nasty family infighting and emotional breakdowns.
It is an astonishing film in many ways, with its intimate portrayal of a family coming to grips with unfathomable events, followed by a determined hopefulness that Michele might still be alive and then despair. Yet the filmmaker's presence also seems inappropriate, and the viewer becomes complicit. What do we gain by watching and listening as Nicholas's father tells him, 10 days after the attack, that his Mommy has died? The camera is kept at a remove, but a microphone is near. Advertisement

The unsettling voyeurism becomes especially weird when Mr. Whitney brings in Dr. Gilda Carle, an author and television therapist, to help counsel the Lanzas. They bond with her because they've seen her on television and don't seem to mind that she shows up buffed and made up for the camera.

Bizarre as all this may seem, the film provides a blunt reality that's missing from so many burnished visions of victims and rescuers. Though CBS's gruesome "9/11" was cast as a tribute to the firefighters, it often felt like a tribute to the filmmakers (the admittedly adorable Naudet brothers) simply for being there. It unwittingly showed something authentic but far from reassuring - that the firefighters were merely humans, unprepared for this historic disaster. "Telling Nicholas" accepts fallibility as a given. The Lanza family has its strengths, but they react to this terrible stress with anger, hostility and eccentric behavior. All these reactions seem understandable. What's strange is the family's willingness to reveal all this - at least that's how it seems now, removed from those first days of incomprehension and desperation, when families of victims looked for hope anywhere, even to a stranger with a camera.

That's HBO's style, to personalize and to provoke...Will this outpouring help alleviate anxiety about the attacks and their future consequences or make it worse?

"It will throw some people back, it will help some people cope," said Lawrence Aber, a professor of psychology and public health at Columbia University's Mailman School of Public Health.

Professor Aber worked with the New York City Board of Education on a recently released study about the effects of the attacks on children, and he thinks that documentaries can help them and their parents put the attacks into a larger context. It's useful, he said, to learn about other cultures and what they think of the United States, and about the conditions in which other people live.

But, he added, programs like CBS's "9/11," which drop people into undigested dread and panic, could be too disturbing for many people. "If all the documentary diet was of that nature, it would increase anxiety," Professor Aber said. "A little bit of fear and anxiety is intelligent in a dangerous world. But an overwhelming amount of fear and anxiety is debilitating. If you watch a lot of these documentaries, you'll be fried. I do believe that most viewers are going to be able to vote with the clicker. But I am concerned about more vulnerable people and children who may have a reduced ability to click away."

As we continue to be reminded, who isn't feeling more vulnerable these days?

New York Times
April 15, 2001
[COVER STORY]
Faith, Hope and Clarity: 'America Undercover Sundays,' on HBO

Want pathos, pain and courage? Get real. No scripts. No casting. No rehearsals. Nobody wins a million dollars or is expelled from the outback. Nobody is exposed to Club Med promiscuity or boot camp brutality. And anybody who doesn't survive, well, that means they're dead and documented.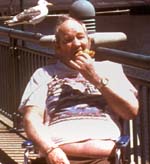 ...This is reality television, slice of life stuff, done HBO style. But voyeurs beware: "America Undercover Sundays," the 11th installment documentary series recently given the not-so-dubious distinction of becoming the tough act that follows "The Sopranos," is not for lightweights...That incestuous grandpa named Melvin Just--his grandson, James Ronald Whitney, is the too-close-for-comfort filmmaker here--really does molest his offspring here ("Just, Melvin: Just Evil," next Sunday).
.No reality is too tame--or tawdry--for the series. If it happens, it's eligible...Placing "America Undercover" after "The Sopranos," HBO's most watched series, with an average of 10 million viewers last season, is no coincidence: "This is not a one-time experiment," (Chrism Albrecht, president for HBO original programming) said...
-- By Robin Finn
New York Times
May 4, 2001
Safe on the Outside

(Or So You Think)...part of (HBO's) "America Undrcover" series, recently given prominence with a 10 p.m. Sunday time slot, following HBO's jewel, "The Sopranos"...the "Undercover" series isn't a muckraking operation--at least not in the classical sense. These documentaries aim to expose unusual and often unpleasant (and sometimes odious) corners of American life, but not to reform them. Their subjects have included sexual abuse of children ("Just, Melvin: Just Evil"), Internet hatemongers, faith healers ("Miracles"), prostitutes and now, mental illness ("Bellevue: Inside/Out").

Are these documentaries (at least some of them) simply television's version of the old Coney Island freak shows? They are unnerving because we are invited to peep without being proselytized. This unvarnished voyeurism doesn't try to legitimize our prurience with a call to action. They seem to say: peeping itself can be a valuable exercise. Much of the human condition is vile (or difficult or weird). Why pretend otherwise...Putting a lens in the face of evil is an important form of indecent exposure (...making us co-dependents as well as voyeurs.)

HBO tries to offset the rawness by occassionally...providing links on the Internet to organizations dedicated to the issues certain documentaries examine. When the cable network showed "Just, Melvin: Just Evil," [director, James Ronald Whitney's] exploration of his own family's rampant child molestation, the toll-free number for an abuse hotline was posted onscreen after the documentary. For its suicide documentary, HBO joined with the National Alliance for the Mentally Ill to distribute information about suicide.

The desire to look at the forbidden is acceptable, even welcome, in fiction. Explaining the appeal of "One Flew Over the Cuckoo's Nest," the film critic Pauline Kael wrote, in 1975: "We all fear being locked up among the insane, helpless to prove our sanity, perhaps being driven mad; this fear is almost as basic as that of being buried alive. And we can't formulate a clear-cut difference between sane and insane."...
-- By Julie Salamon
New York Times
April 30, 2000
A Broker's Painfully Personal Trail

NEW YORK -- On Wall Street, intimate self-disclosure usually involves the size of your co-op apartment, the price of your car or the perils of your $20,000 trek through the Andes.

But for James Ronald Whitney, 36 and a star broker at Tucker Anthony, it involves telling how his maternal grandfather sexually abused Whitney's mother, uncle, aunts and step-aunts, some from the age of 2, they said. And telling not just his friends and business associates, but also the world, through a feature-length documentary film, "Just, Melvin," shown at the Sundance Film Festival in January, praised by Roger Ebert as "one of the best docs of the year" and recently sold to HBO, which plans to show it in 2001.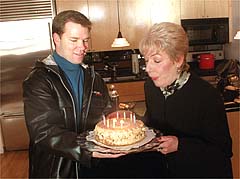 "The film is about a courageous family, my family, who has a powerful and chilling story to tell about the abuse they suffered because of my grandfather," Whitney -- Ron to friends -- said in a conversation at his 3,000-square-foot downtown Manhattan loft.
"I want it to serve as a wake-up call to society and as a warning to those monsters like my grandfather who are still out there."

So far, no one -- neither clients nor colleagues -- has been put off by a film whose tone is so contrary to a universe-mastering culture.

"I was shocked that he opened himself up to the straight-backed guys on Wall Street," said Jeanne Moos, a CNN correspondent and a client of Whitney. "But the film actually convinced me to invest with him. You have to invest with someone, and when I saw the film, I was impressed with that."

Executives like Rakesh Khilnani, a Tucker Anthony senior vice president who has worked with Whitney since 1994, were sympathetic. "It's serious stuff that was happening in his family," Khilnani said. "We don't take it lightly. But it's important that it be spoken about."

The idea for the film began brewing three years ago as Whitney's maternal grandmother lay on her deathbed. He decided that it was time to explore a forbidding topic: how his grandfather, Melvin Just, a mechanic from Carlotta, Calif., traumatized his family. Whitney wanted some answers.

"He molested my family, including my mother, and made her suicidal," Whitney said, adding that his parents had split when he was nine years old. In some of the movie's most emotional scenes, Whitney confronts his grandfather, who died at 71, shortly after filming was completed. Just denies all the accusations. In 1979, he was convicted of 12 counts of child molestation in his family and sentenced to 13 years in prison. He served less than nine years in a state prison in San Luis Obispo, Calif.

On camera, aunts of Whitney discuss drug and alcohol problems as well as being molested. Three of them also say they witnessed Just rape and murder a social worker who was assigned to protect the children from him. Although Just was a suspect in the killing, he was never charged in the case, which remains unsolved.

"It's possibly too honest for some people," Whitney said of the film. "But I think society is ready for some honesty."

Whitney, who is divorced, worked on his film during free time and on vacations, traveling around the country to interview relatives, many of whom he had not seen in years. The film won the best documentary feature award at the Santa Barbara International Film Festival and Newport Beach Film Festival.

Still, he always kept a finger on the stock market. At the Sundance festival in January, he had a cell phone in his hand as he conducted interviews.

"CNBC was my alarm clock," he said. "In the mornings, I equally grabbed the entertainment and business sections of all the newspapers. I knew when Coke was getting rid of 1,200 employees."

With no previous filmmaking experience, Whitney, who grew up in Las Vegas and studied economics at Arizona State University, invested nearly $500,000 of his own money to produce "Just, Melvin," which he also wrote and directed. HBO agreed to pay what a spokeswoman said was "six figures" for the film.

"Between the monetary Awards from festivals and the HBO deal, the film is in the black," Whitney said, although he declined to give specifics.

Whitney was already used to being before the public. As a dancer, he was a contestant on the "Dance Fever" and "Star Search" television shows in the mid-1980s. In the film, he is seen competing on television game shows and performing with the Chippendales dancers.

Even while performing as a dancer, Whitney ran a frozen yogurt and ice cream shop in Los Angeles, among other small businesses, and gave investment advice to friends. He passed his brokerage license exam in the early 1990s. After working for a smaller firm, in 1995 he joined Tucker Anthony, the banking and brokerage firm that was formerly part of John Hancock Mutual Life Insurance. "My mom raised me to be an overachiever," he said, a Cheshire cat grin spreading across his decidedly clean-cut, innocent features.

Given his critical success, he is already at work on another film, about a friend who is involved in the cybersex industry. But he is keeping his day job, which he says thrills him. "I get so excited by empirical data," Whitney said. "That's why I'm a stockbroker. I like to solve puzzles. Market hours are play time for me. It's like one big game show that begins at 9:30 a.m. It's like the final round of 'The $25,000 Pyramid,' because it's so time-sensitive. During market hours, as 4 O'clock approaches, I get sad."

Besides, he can put the money to a good use. "My financial success on Wall Street," he said, "has allowed me to afford my creative outlets."
-- Abby Ellin

The New York Times Magazine
Sunday, March 3, 2002

GOOD DRAMA TRUMPS GOOD TASTE FOR SHEILA NEVINS.

It's a formula that has made her the player of the documentary film world...Honors have been plentiful: HBO documentaries have received 10 Oscars, 43 Emmys, 17 George Foster Peabodys. When the Academy Award nominations were announced last month, HBO productions received four of the five nominations for Best Documentary Feature...Last year, Chris Albrecht, HBO's president for original programming, gave her productions a boost...giving them the prime 10 p.m. spot following "The Sopranos." Ratings in that time period rose 15 percent from the previous year...

Even when the topic is familiar--AIDS, disability, murder, hate groups, incest, addiction, Monica Lewinsky--the style is distinctive. A Sheila Nevin's production takes its viewers inside frightening, painful and weird corners of human existence. In last year's "Just, Melvin: Just Evil," child abuse was explored through (James Ronald Whitney's) investigation of his own family's rampant molestation...As for Nevins, this spring it's business as usual--except that it isn't. "Animal Passions" has been replaced with (Whitney's) "Telling Nicholas," about a family dealing with a son whose mother was killed in the World Trade Center attack. HBO has also added a show in which Giuliani reconstructs that day...Earlier, Nevins had rejected the idea of a Giuliani piece, but after meeting him in October and listening to him tell about what happened on Sept. 11, she was mesmerized.."I'd never heard the story that way before," she says. For Nevins, that's as good a reason as any.
-- by Julie Salamon

New York Times
Wednesday, March 21, 2001
Seamy or Serious, It's Now Center Stage

In the late 1970's, when HBO was still a newfangled television network, it hastily put together a documentary unit as part of an effort to expand its programming hours from 8 to 24.

Under the direction of Sheila Nevins, a young producer out of network news, the unit went on to develop its own brand of nonfiction television that was unencumbered by the sensitivities of sponsors and regulators. Ms. Nevin's main mission was to acquire or produce programs that would create enough water cooler buzz that people who did not have HBO would feel that they had to subscribe to it or face pop-culture illiteracy.

The result: a brash and gritty style of documentary that at times has ventured toward soft-core pornography by taking viewers inside topless bars, brothels and the bedrooms of everyday couples but has also won Academy, Peabody and Emmy Awards for films on such topics as war crimes and youth violence.

Those documentaries, most under the "America Undercover" title, have now taken center stage at HBO. On March 11 they were given one of television's most coveted weekly time slots, Sundays at 10 p.m., after HBO's most watched program, "The Sopranos."

...April 22 "America Undercover" will feature "Just, Melvin: Just Evil," in which the filmmaker James Ronald Whitney "takes a hard look at the sexual abuse that was perpetrated in his own family by his grandfather, Melvin Just. He speaks to Melvin's children and step-children, almost all of whom were molested as children, and looks at the devastating legacy of sexual abuse."

...I'm Chekovian," (Ms. Nevins) said..."I believe it's dark and rainy outside almost all the time and that sex is a big laugh and we're too serious about what's fun and we're not honest enough about what's sad."
-- Jim Rutenberg

TriBeCa Festival Celebrates Film and Resilience
by Robin Pogrebin, May 7, 2002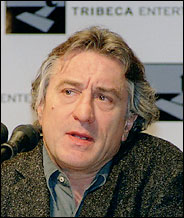 Certainly the world doesn't need another film festival. But the people behind the TriBeCa Film Festival felt strongly that New York needed this one.

So when you ask Robert De Niro and Jane Rosenthal, founders of TriBeCa Productions, how their film festival, which opens tomorrow and runs through Sunday, will differ from Sundance or Cannes or Toronto, they say they do not really know yet.

"As it goes on, hopefully it will define itself," Mr. De Niro said.

Soon it becomes clear that the importance of this first festival lies not so much in the films featured - more than 150 of them, from shorts like the 14-minute Spanish film "Bamboleho" to major Hollywood premieres like "Star Wars: Episode II - Attack of the Clones" - as in its location.

Because of Mr. De Niro's name and the prestige of TriBeCa Productions, founded in 1988, doors appear to have opened easily. American Express swooped in as the festival's presenting sponsor. Kevin Spacey, Helen Hunt and Isaac Mizrahi agreed to be judges for the film competition. Sidney Lumet, Susan Sarandon and Alan Alda agreed to participate in panels on topics like "Producing 101" and "Making Science More Sexy."

In addition to "Star Wars," Hollywood is sending several splashy premieres, including "Insomnia," with Al Pacino, Robin Williams and Hilary Swank; "About a Boy," with Hugh Grant and Toni Collette; and "Divine Secrets of the Ya-Ya Sisterhood," with Sandra Bullock, Ellen Burstyn and Ashley Judd.

Martin Scorsese is curator for a series of newly restored film classics, beginning with "Viva Zapata," and collected his favorite films about New York. The festival has benefited from a hip advertising campaign featuring Billy Crystal, Gwyneth Paltrow, Danny DeVito and others.

Except for films entered in the competition, however, there was no submission process; the festival's films were chosen only by invitation, said David Kwok, the festival's filmmaker coordinator. And even some of the low-budget ones come with the imprimatur of previous recognition. The festival received more than 1,300 entries, and the winners will be announced at the conclusion of the festival..

The festival will also feature a series of films that grew directly out of Sept. 11, including "Telling Nicholas," a film by James Ronald Whitney about a 7-year-old boy whose father waited 10 days before telling him that his mother had died in the fallen towers, and "From the Ashes ã 10 Artists" by Deborah Shaffer, which profiles 10 artists as they related their experiences of Sept. 11.

The festival's organizers said their location on Greenwich Avenue between Franklin and North Moore Streets, so close to ground zero, was a constant reminder about the larger purpose of their efforts. "All you have to do is walk out of the building and look left," Ms. Rosenthal said.