London
Time Out (London)
January 24-31, 2001
WHAT'S UP DOC
Small-screen documentaries hit the NFT (National Film Theatre).

In among the current glut of themed or city film festivals...segments have included work from the likes of Errol Morris, Fred Wiseman, William Klein, Michael Moore, Molly Dineen, and John Grierson...recent releases here include 'Hoop Dreams,' 'Buena Vista Social Club,' 'Lacho Drom,' and 'One Day in September'...In 1999 the (Sheffield) festival started selecting highlights for...the NFT (National FIlm Theatre) this week (Thurs-Sun), with some of the titles showing at the Ritzy thereafter. It's a hugely impressive package ...these films demonstrate a truly cinematic range and ambition and, as you might expect, portray the full fecundity of human experience. If they share anything, alongside the increasing application of narrative strategies to non-fiction scenarios, it is perhaps a sense of risk missing from much fictional feature-making: 'Just do it' could well be the manifesto these eclectic directors (Patricio Henriquez's 'Images of a Dictatorship,' Julia Query's 'Live Nude Girls Unite,' and James Ronald Whitney's 'Just, Melvin') would sign up to.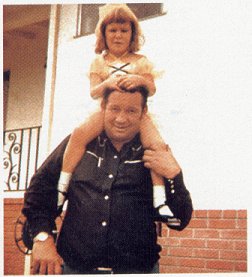 ...Take for example...the harrowing and revelatory 'Just, Melvin' (pictured). Through interviews with four generations of honest and courageous women, former TV quiz sensation, show dancer and Chippendale James Ronald Whitney reveals the emotional devastation wrought by the monster at the heart of his family; his grandfather, serial pedophile, Melvin Just. When the audibly prefigured key encounter takes place, there are no easy answers, no cut-price redemptions. Pain so deep in the bone doesn't just melt into air, and nowhere is this more evident than in the bleak, survivalist humour and complex emotional responses to the film's climactic event.
If the season consisted of only these three titles, it would be well worth attention...In these deprived times for imaginative British film initiatives, It's heartening to see such genuine commitment to pictures like this which, whether personal or political, have art and heart and show what film can do when it gets down and dirty with reality.
-- Gareth Evans

Time Out (London)
January 24-31, 2001
Critics' choice

Repertory &
special screenings
Critics' choice
Happiness ('Pi')
Riverside, Wed 24
Two acclaimed recent US indies.

Into the Arms of Strangers
Rio, from Fri 26
Moving true story of the children who fled Hitler.

Just, Melvin
NFT, Sat 27
The family man... devastating portrait of incestuous abuse (see Preview column).

East Drink Man Woman
Curzon Soho, Sun 28
Ang Lee's early take on Taiwanese domesticity.

Tabu
NFT, Tues 30, Wed 31
Murnau's South Seas poem, his last film.