VARIETY
March 13, 2000
S.B. Fest Concludes with Awards

The Santa Barbara Film Festival concluded its 15th edition Sunday with the presentation of Awards to an array of pictures...
The Body Shop's Insight Award for best feature doc, which includes a $2,000 cash prize, was given to James Ronald Whitney's "Just, Melvin."
The Santa Barbara Independent Audience Award, chosen by popular ballot, was voted to Regis Wargnier's "East/West" from France, while the Lumina Award for best cinematography was presented to Spanish lenser Javier Aguirresarobe for "The Girl of Your Dreams."
-- Todd McCarthy

VARIETY
March 17, 2000
South by Southwest Honors Participants

The South by Southwest Film Festival bestowed its Awards late Tuesday, though the fest continues in Austin, Texas, through Sunday.
...Docus "The Ballad of Ramblin' Jack" and "Just, Melvin"--both of which unspooled at the Sundance Film Festival in January--were runners up, though each received a surprise special prize award of $5,000 from documentary filmmaker Michael Moore, who happened to be filming in Austin and stopped by the Awards.
Louis Black hosted the ceremony, with filmmakers D.A. Pennebaker and Monte Hellman in attendance.
-- Charles Lyons

May 31, 2000
HBO Sets Things Right With 'Just'

HBO has picked up exclusive rights to premiere James Ronald Whitney's docu "Just, Melvin," winner of best documentary nods at the Santa Barbara, Newport Beach and South Beach film fests.

Pic, which also screened at Sundance, chronicles generations of domestic abuse in a family called Just.
"We're excited to be working with Whitney to bring this unique and powerful documentary about the generational effects of evil to the widest possible audience on HBO," said Nancy Abraham, VP of original programming and documentaries.

Abraham and exec VP of original programming Sheila Nevins negotiated the deal with Whitney.
-- K.D. Shirkani

VARIETY
January 11, 2001
'CHUCK,' 'REQUIEM,' 'ME' LEAD SPIRIT AWARD NOMS

Forster, McCormack, Trachinger helmers to watch

"Chuck and Buck," "Requiem for a Dream" and "You Can Count on Me" topped the 16th annual Independent Spirit Award nominations, grabbing five noms each.

Nominees were announced Wednesday night in Los Angeles by host (and noms panel member) Bill Pullman, along with presenters Angela Bassett, Don Cheadle, Benecio Del Toro and Amanda Peet...

Docus true and true

Documentary filmmakers nominated for the fifth annual DirecTV/IFC Truer Than Fiction Award are Vincent Fremont and Shelly Dunn Fremont ("Pie in the Sky: The Brigid Berlin Story"), David Shapiro and Laurie Gwen Shapiro ("Keep the River on Your Right: A Modern Cannibal Tale"), James Ronald Whitney ("Just, Melvin") and Jem Cohen and Peter Sillen ("Benjamin Smoke")...Artisan Entertainment was the top distributor with 11 nominations. "Chuck and Buck" and "Requiem for a Dream" received five each, while "Ghost Dog: The Way of the Samurai" received one for best feature.

The 16th annual IFP/West Independent Spirit Awards will be presented March 14 in Santa Monica...The nominating committee besides actor Pullman included writerproducer Sherman Alexie, writer-actor Jon Favreau, casting director Mali Finn, Sundance Film Festival programmer Geoffrey Gilmore, actor and IFP/West president Vondie Curtis Hall, producer Jeff Kleeman, director Lynne Littman, New York Times film critic Elvis Mitchell, and cinematographer Nancy Schreiber. Producer Laurie Parker chaired the committee.
-- Dana Haris

VARIETY
March 23, 2001
Independent Spirit Awards:
16th edition of indiewood's answer to the Oscars...

Remarkable stories coupled with insightful visions define the feature documentaries nominated for this year's DirecTV/IFC Truer Than Fiction award, to be presented at the IFP Spirit Awards on Saturday.

The film's subjects range from a soft-spoken intellectual and former cannibal to a chain-smoking underground performer to one of Andy Warhol's Factory entourage to a family devastated by incest...This year's finalists in the juried competition are Vincent Fremont and Shelly Dunn Fremont for "Pie in the Sky: The Brigid Berlin Story," David Shapiro and Laurie Gwen Shapiro for "Keep the River on Your Right: A Modern Cannibal Tale," James Ronald Whitney for "Just, Melvin," and Jem Cohen and Peter Sillen for "Benjamin Smoke."


..."Just, Melvin" is a real-life horror story in which director Whitney examines the cycle of abuse that has perpetrated itself from generation to generation in his own family. "It's called child abuse but it doesn't end with childhood," says Whitney, whose aunts and step-aunts were abused by his grandmother's second husband, Melvin Just. The residual effects of alcoholism, prostitution and drug addiction are made plain in the psychological post-mortem.
Whitney wanted the film to be accessible: to be both eye-opening and entertaining. Moments of comic relief come from the family gatherings and appearances on game shows by Whitney which are in stark contrast with an unnerving portrait of evil personified. "The court system failed us. We've tried him ourselves with audiences," explains Whitney of the film's indictment of Just.

Audiences at each of the twelve film festivals in which the docu has screened have responded strongly to its content: it has also won six festival Awards. "Just, Melvin" will air on HBO on April 22 during the prime post-"Sopranos" time slot (Sunday at 10 p.m.). Whitney hopes the film will continue to awaken audiences and empower now-silent victims to seek help.
-- By Kathy A. McDonald

VARIETY

Daily Variety
Tuesday, April 16, 2002

HEADLINE: TRIBECA FEST ADDING 'YA-YA'

NEW YORK --- The Tribeca Film Festival has added special screenings of Warner Bros. releases "Divine Secrets of the Ya-Ya Sisterhood" and "Insomnia." ...Fest will include two world premiere features --- Miramax Films' "The Importance of Being Earnest," helmed by Oliver Parker, based on the classic play by Oscar Wilde; and Neil Burger's "Interview with the Assassin."

"Divine Secrets" will screen May 9 at United Artists' Battery Park Theaters, which has been closed since Sept. 11. Ensemble drama, helmed by Callie Khouri, stars Ellen Burstyn, Fionnula Flanagan, Sandra Bullock, James Garner, Ashley Judd, Shirley Knight, Angus MacFadyen and Maggie Smith.

"Insomnia," directed by Chris Nolan ("Memento"), will screen May 11 at the Tribeca Performing Arts Center. It stars Al Pacino, Robin Williams and Hilary Swank...

Several shorts and documentaries that commemorate Sept. 11 will screen in a special division of the fest devoted to the terrorist attacks. The doc feature films in the Sept. 11 program are "Telling Nicholas," directed by James Ronald Whitney, and "From the Ashes," directed by Deborah Shaffer. Jon Stewart will moderate a panel entitled "Sept. 11: How it Changed Us" that includes filmmakers, photographers, writers and musicians...
-- Charles Lyons

Telling Nicholas

(Documentary -- HBO; Sun., May 19, 10 p.m.)
Taped in New York by Fire Island Films. Produced, written, directed and edited by James Ronald Whitney.

By STEVEN OXMAN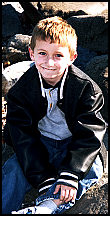 Documentary filmmaker James Ronald Whitney lived just below the World Trade Center when the towers collapsed on September 11, and he immediately grabbed his camera and began taping. The shots of the buildings themselves, though, are easily the least interesting thing about the superb "Telling Nicholas," which, documenting a ten-day period after the attack, starts out as the story of informing a 7-year old his mother has died but ends up depicting the near melt-down of a family. It's a heart-wrenching film, genuinely deep in its examination of trauma, grief, and the fissures that divide a family that's not as conventional as they initially appear.

While looking for pictures of people he knew at one of the big posting sights for the missing, Whitney was immediately drawn to a photograph of Michele Lanza and, sitting on her lap, her son Nicholas. Within 72 hours of the attack, Whitney went out to meet Michele's family in Tottenville, at the outer reach of Staten Island.
The focus is at this point completely on Nicholas, an adorable, blonde-haired kid who knows something has happened but isn't sure what. A neighbor is watching the boy in order to keep him away from the television, while Nicholas' father Robert, a soft-spoken Oklahoma native, is struggling with how to tell his son the circumstances.
The rest of the family, Michele's mother, father and two sisters, continue to harbor hope that Michele may still be alive, and they play for Whitney the phone message she left for her younger sister Cindy after the first plane hit but before the second.
Gradually, a clearer picture of the family emerges. Michele and Robert were separated, with Robert living in Virginia. Her family has, to be generous, mixed feelings towards Robert, whose financial situation had lead to Michele's taking the job in Manhattan to begin with, a job she didn't really want. The initial trauma of the event gives way to anger, blame and guilt, with the most blatant victim being Cindy, who falls into a catatonic state and needs to be treated with anti-psychotic drugs. Michele's mother, Ethel, still working hard to deny her daughter's death, is stressed to the limit caring for Nicholas and Cindy's two children.
Whitney brings in another family as well, the Ahmed family in Brooklyn, devout Muslims. Shabbir Ahmed was a waiter at Windows on the World and died in the attacks. His 16-year-old son Thanbir becomes an eloquent voice in the film, and even develops a bond with Nicholas when Whitney introduces the two.
Whitney is clearly not trying to be a detached observer here. In addition to bringing Thanbir into the picture -- in part to blunt the intensity of Michele's family's strong anti-Muslim feelings, particularly from Ethel -- he also introduces the family to psychologist Gilda Carle, whom the family trusts in part because they've seen her on various television talk shows. Carle counsels the family, with a particular focus on helping Robert deal with the inevitable, informing Nicholas that his mother is dead.
While that event forms the climax of the film, Whitney has also delved along the way into the forms of religious extremism at work within this apparently all-American family. Michele's older sister, who received a correspondence doctorate and lives with a plethora of religious icons in the family basement, claims the attacks were the culmination of prophecy, while also blaming Robert's evangelical apostolic faith, with a focus on female modesty, for oppressing Michele.
From Aaron Davies' casual but polished cinematography to Mocean Worker's sensitively mournful scoring, "Telling Nicholas" is an expert work. Whitney's own first-person narration helps it along, and the whole endeavor comes off as deeply felt and highly personal, never the slightest bit sensational or exploitative, which in lesser hands might have been a possibility.
Whitney does all he can to give it something of an upbeat ending, and accomplishes that to a degree with Thanbir and Nicholas's help. He also shows a statistic, that it is thought over 10,000 children lost a parent on September 11th. The overall impact of the film is devastating, and it clearly demonstrates that the residual effects of that event continue to ripple not just outward, but inward too.

Executive producer, Richard Reichgut; camera, Aaron Davies; sound design, Benny Mouthon, James Ronald Whitney, Neil Stephens; music, Mocean Worker. 85 MINS.